Multi-Province Representation at Local ACE Conference Oct. 14-15, 2022
Multi-Province Representation at Local ACE Conference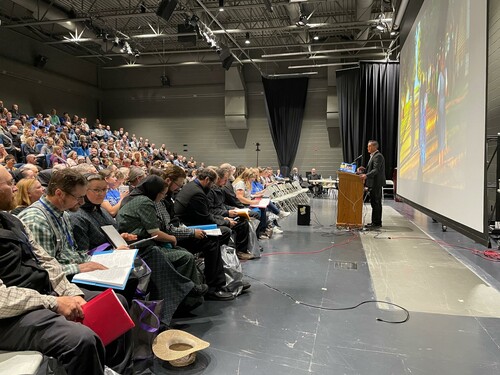 More than four hundred Hutterite Colony Educators filled the Magrath High School theatre seats for the Alberta Colony Educators (ACE) Conference on October 14-15 to engage in professional development, collaboration, and networking opportunities. The ACE Conference has been held every two years since 1997 as a province-wide professional development opportunity for school division colony teachers, principals, educational assistants, and German teachers. This year, the conference welcomed representation from 148 of the 199 colonies in BC and Alberta.
Hutterite education is a combined effort in Alberta. Colonies provide school buildings, and school divisions provide public school board teachers, educational assistants and principals to teach the provincial curriculum to students. Additionally, each colony assigns one of its own Hutterite brethren to teach German and religion lessons to their students for one hour before and one hour after "English" School.
Historically, individual school districts organized the ACE Conference; however, three years ago, the event's responsibility shifted from school divisions to the ACE Special Interest Group of the English Second Language Council (ESLC) of the ATA. While this year's conference was initially scheduled for 2021, organizers decided to reschedule until 2022 due to COVID-19 gathering restrictions. After a trying and somewhat disconnected two years, meeting and learning in person was a welcome opportunity for everyone. 
Karl Peterson, ACE Chairperson and Principal of 19 Colony Schools for Westwind School Division, describes a tangible excitement amongst all participants. "It was worth the extra year it took to put the conference together," he says. 
"It was amazing to see the diverse representation from colonies across the whole province," Peterson continues. "Five years ago in Medicine Hat, we only had a handful of Hutterite brethren at our conference. At the 2019 and 2022 Magrath conferences, we continued to see a dramatic increase in our numbers, with over two hundred members of various Alberta Hutterite colonies, including German teachers, Colony Ministers, and numerous other colony members and their wives." Peterson explains that in previous years, the conference dates conflicted with Hutterite religious holidays and early gardening season, making it difficult for many colony members to participate. As a result, the past two conferences were held in October, creating more opportunities for Hutterite German teachers to be in attendance. The result has been greater collaboration and stronger relationships between all who participated.
Conference attendees enjoyed an opening keynote address by Sigmund Brouwer, a best-selling author of dozens of titles with over 4 million printed books in multiple languages. Brouwer spoke about how important it is for educators to help instill confidence in even the most reluctant young writers. The second keynote speaker, Todd Ormann, an agriculture professor from Olds College, discussed the importance of embracing technology to promote agricultural advancements. The concluding keynote was Dan Duncan from Kamloops, who shared a Zoom presentation titled "From Surviving to Thriving – A Framework for Understanding ADHD." 
Additionally, throughout the two-day conference, educators and speakers from around the province offered workshops on literacy, math, science, art, mental health, indigenous games, therapy dogs, Hutterite history, and German grammar. 
Josh Hofer, the German teacher and Second Minister at East Raymond Colony, has long supported ACE conferences and helped promote them by spreading the word amongst his network of Hutterite German teachers and gardeners. He spoke favourably of his experience, saying, "It was nice to have James Valley come all the way from Manitoba to sell their books and resources," he says. "We all enjoyed our time in Magrath and are grateful to those who organized such an amazing conference."
Peterson credits ACE conference chairperson Bill Alston with the success of the conference. Bill is a retired colony teacher of 38 years with Westwind School Division and has organized four past ACE conferences. 
Jake Wurz, a German teacher at Albion Ridge Colony, felt that the conference was critical in connecting English and German teachers working on colonies. "It was so nice to see everyone there and to catch up with both new and old acquaintances," he said. 
Peterson is proud of the collaborative efforts and partnership that made the ACE conference a success, including contributions by local Hutterite colonies of baked goods and door prizes. "Our province's history is richly diversified by the cultural contributions of Alberta's nearly 200 Hutterite schools," he explains. "As that number continues to grow, so does the awareness that the educational needs of these colonies require unique approaches and considerations."
The next Alberta Colony Educators Conference will be held in Red Deer in October 2024.